Webelos Scouts work toward the Arrow of Light badge by completing a series of adventures.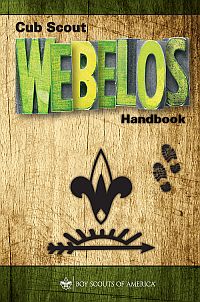 Be active in your Webelos den for at least six months since completing the forth grade or for at least six months since becoming 10 years old. (Being active means having good 

attendance

, paying your den dues, and working on den projects.)

Complete each of the following Arrow of Light required adventures with your den or family:

Building a Better World

Camper

Duty to God in Action

Scouting Adventures

Complete three Webelos elective adventures of your den or family's choosing.

With your parent or guardian, complete the exercises in the pamphlet   

How to Protect Your Children From Child Abuse: A Parent's Guide 

and earn the 

Cyber Chip award

 for your age.  
The Boy Scout Badge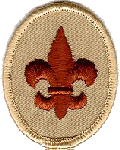 Webelos Scouts who have earned the Arrow of Light rank have aslo completed all requirements for the Boy Scout Badge (also called the Boy Scout joining requirements).  This badge will be presented to the Webelos Scout upon his joining a Boy Scout Troop.  His new Scoutmaster will initial his joining requirements in the boy's Boy Scout Handbook.