Webelos 1 Advancement Requirements
Online Advancement Tracking System
Pack 777 subscribes to Scoutbook, an official BSA online advancements tracking tool. Pack members and their parents can login securely at https://www.scoutbook.com/ to review and/or update scout achievements. Please contact the Webelos I Den Leader or Pack 777 Advancements Chair if you have questions regarding your son's access to this product.
---
General Requirements
Webelos Scouts work toward the Webelos badge by completing a series of adventures.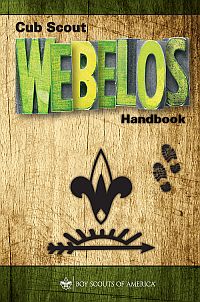 Be an active member of your Webelos den for three months. (Being active means having good attendance, paying your den dues, and working on den projects.)

Complete each of the following Webelos required adventures with your den or family:

Cast Iron Chef
Duty to God and You
First Responder
Strong, Faster, Higher
Webelos Walkabout

Complete two Webelos elective adventures of your den or family's choosing.

With your parent or guardian, complete the exercises in the pamphlet

How to Protect Your Children From Child Abuse: A Parent's Guide

and earn the

Cyber Chip award

for your age.
Requirements and Electives
Note: Please refer to the Official BSA Webelos Cub Scout Handbook for more information.